We are leading tramp magnet manufacturer and, supplier in India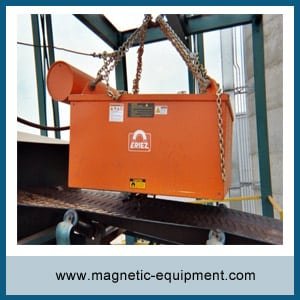 Linux Magnetic is renowned for manufacturing extremely automated and reliable suspended tramp iron magnets for various industries and applications. Tramp Magnets are extensively used in mining industries and processing plants of non-magnetic ore types including – Gold, Copper, Lead, Zinc, Silver etc to remove unwanted or damaging particles. These machines are available in standard sizes, strengths and design to meet various applications .Some of the features of Tramp Magnet are – the magnetic unit is easily removable from enclosure by loosening, for removal of low magnetic particles. Self cleaning is possible with our manufactured machines and manually cleaning of tramp magnet.
Tramp Magnets are used in the removal of ferrous tramps as trap metal can cause serious damage to machinery and the purity of the product is compromised. Magnetic Separators are designed to trap and remove fine as well as large pieces of tramp metal. Fine Tramp metals include – metal dust or filings. Medium Tramp metal includes – nuts, bolts, and broken grinding blades. Large Tramp metal includes – broken machinery parts. At Linux Magnetic, we focus on industrial-strength magnetic separators. These magnets are installed over conveyors to remove unwanted metals such as iron and steel, specialized magnets may be installed over vibratory feeders. We manufacture Tramp Magnet for the removal of ferrous and non-ferrous metal contaminants, the product is dry or liquid. This magnet is used in industries such as – grains, feeds, chemicals, food, and plastics, to improve the purity of products and protect processing equipment from damage.
Magnetic separator is most commonly used in mining industries to separate tramp ore or unwanted waste metals from rest materials. Tramp ore typically consists of man–made products created by the mining process itself such as nuts, bolts nails, wires from explosive charges etc. the machines manufactured by us are highly durable. Our products are well known in the market for customization and 24hours customer service. These machines are delivered almost everywhere in India as well as many countries. The products are developed under the guidance of experts and requirement of customer.