Eddy Current Separator Manufacturer | Supplier in India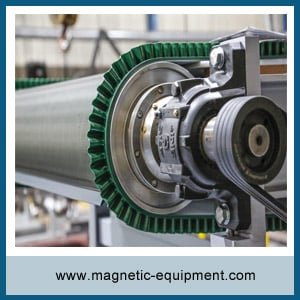 The Eddy Current Separator is an advanced metal separating unit which is capable of sorting non-ferrous metals such as copper, brass, and aluminum from dry recyclables. These eddy current separators are also known as Non-ferrous separators. These separators are generated by induction in metals. The extremely strong magnetic field and the high rotational speed guarantee finer results separation results. There are 4 rotor options available from master magnets depending on applications. The eddy current separator is suitable for a wide range of applications and also proves to be extremely efficient in recovering Aluminium cans from mixed waste streams, Refuse Derived Fuels (RDF), or household dry mixed recycled materials.
Eddy current separator consists of a conveyer belt that has its drive located at end and high speed magnetic rotor system installed at the discharged end. The rotor is positioned separately rotating non-metallic drum, and revolves at around 3000 revolutions per minute during operation.
We are the leading manufacturer, supplier, and exporter of Eddy current separators. Our great experienced team will help you to determine what characteristics of Eddy's current separator will best suit your needs. We supply this high-quality Eddy current separator all over the world. We ensure reliability and this shows our leading position in the market.