Linux Magnetics is the best company for double drum magnetic separator manufacturers, Suppliers, and exporters in Ahmedabad, India.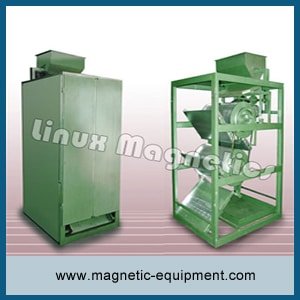 Our Double Drum Magnetic Separator is made from supreme-grade materials in compliance with international quality standards with the usage of cutting-edge technology. These are designed with the intention of offering 100% reliable separation of ferrous elements. They encompass an open magnetic arrangement along with the magnetic poles positioned on one plane. Low-field intensity separators are engaged for eliminating iron particles from massive material as and when any unwanted iron particle interrupts the following course orders.
Our powerful as well as operative magnetic separator manufactured by our company is applied for rapid cleaning operations by eliminating even weak magnetic elements. We as the top Double Drum Magnetic Separator supplier always ascertain that products are quality examined as well as confirmed. We offer them at exclusive rates.