We are the No. 1 bullet magnet manufacturer and Supplier in India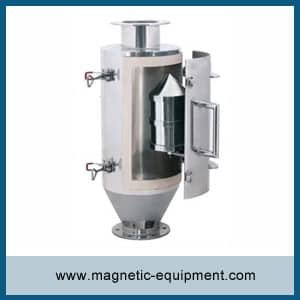 Linux Magnetics is a leading industry which has specialized in manufacturing of Bullet Magnet. These magnets are manufactured in such a way that they are efficient in-line magnetic separator for removal of ferrous metal contamination from either gravity fed or pneumatic pipelines. These are fitted into pneumatic process lines, often used for food powders and intake lines are of high velocity where abrasive products can be a problem. The element of the bullet incorporates high-intensity rare magnetic material which ensures the capture of unwanted materials.
Bullet magnets are ideal for the removal of tramp-type contamination, for eg. Nuts, bolts, staples, etc, from gravity and pneumatically conveyed pipelines. The magnetic bullet is centrally mounted within stainless steel housing. The machines manufactured by us are easy to clean and operate. The separators are installed with accuracy so company doesn't have to care about contamination which makes their work easy. Electrical safety interlocks can be fitted to magnetic packs to stop the process to ensure security if it accidentally opens. The machines are highly durable and automated which makes it easy to operate.
Our machines are designed with precision and under the guidance of professionals which makes over product more accurate and energy efficient. Our customers are well satisfied using our machines as maintenance cost is low and machines are available at cost effective rate. We also provide after sale service and 24hour service assistance. Manufacturing of these machines is done with accuracy and proper care so maintenance cost is very low. Machines are low power consuming, provides various range of applications, the processing rate is high per unit area of screen, machines are highly accurate in separating.