Magnetic Grill Manufacturer, Supplier, Exporter in Ahmedabad, Gujarat, India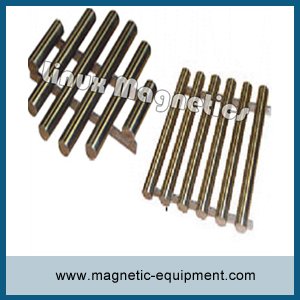 Magnetic grill is specifically applied for the exclusion of ferrous particles from any type of free flowing matter particularly in the industries. Such free flowing substance includes food material such as tea, grains and pulses, sugar. The Magnetic Grill is very simplistic as well as crucial equipment needed in the food industries. Apart from the food sector these also have significant applications in the arena such as chemical industries, pharmaceutical industries, recycling industries etc. Our high quality equipment is designed by our proficient professionals. They employ high grade materials that are meticulously checked and thereafter procured from the well-known traders of the market.
Our products are made in adherence to the international quality standards with the advanced production methodology. These are known to offer several favorable aspects such as precise results, abrasion resistance, versatile usage etc. Our products are available in several dimensions as well as can be custom made as needed by the clients just as our Magnetic Lifter and Magnetic Pulley.