No.1 Manufacturer of Tumbler Screen, Supplier, and Exporter of Tumbler Screen in India.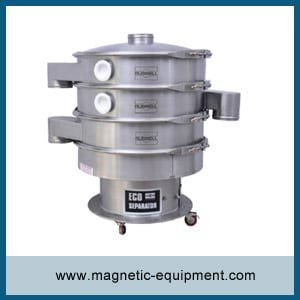 The gyro screens are designed by multi-directional vibrators which prevents blinding of sieves. The screen works on principle of gyratory motion. Circular vibrating screen are with a most progressive design of screens for grading of fine, wet and difficult to screen materials. At Linux Magnetics machines are designed in such a manner that, these screens can handle wide range of materials including heavy, light, dry, wet or fine. Our company manufactures gyro screen in various sizes that makes machine suitable for each requirement.
These machines are used during the mechanical screening process, mainly used in separating one material from another. We design gyro screens depending on applications required in industries. Most industries are looking for machines that are high-performing and machines that separate solids and liquids easily. Manufacturing of these machines is done with accuracy and proper care so maintenance cost is very low. Machines are low power consuming, provide various range of applications, the processing rate is high per unit area of the screen, and machines are highly accurate in separating.
Gyro Screen Machines are widely used to handle all screening problems such as grading, sieving, scalping bulk materials, or separating. These machines often work together to produce the end product. Sector screening and separating task is most important for many industries for getting desired products. It is important because it separates raw material from a crusher or quarry into finder grades.