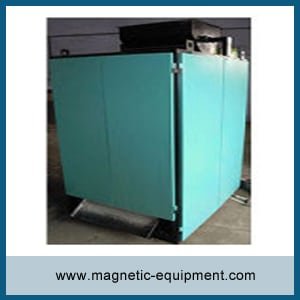 This is extensively applied for effectual separation of diverse ferrous impurities from certain materials by employing the magnetic effect.
We manufacture as well as supply extraordinary quality products which are particularly applied to decontaminate the coolant liquid used for the machines from tiny ferrous elements. Our Coolant Magnetic Separator is known to offer unique features just as exceptional performance, effortless installation as well as minimal maintenance requirement. These are simplistic to use as they are automatically functioning, also they are light & compact. These are also very robust, durable and have strong magnetic power. This separator aids in the elimination iron particles during grinding and milling operations as well.
Use :
Used to purify the coolant liquids of very fine ferrous particles.
Our machines and equipments are fabricated in compliance to the international quality standards with the most leading technology. They are quality tested and verified and we offer them at great price range.